Learn Persuasive Writing
The Ultimate How To Write Book
Dear Persuasive Visitor,
When it comes to how to books on persuasive writing none can come close to the e-book Make Your Words Sell! by Dr. Ken Evoy.
If you are a business man, a college student, high school student, or a public speaker, this is the ultimate How To Write Persuasively guide for you.
It will change the way you look at your self and abilities. If you follow its simple instructions, you will be amazed that you can write. More importantly, you will be able to create writing to persuade.
Have you ever said, "I can't write?" Why do you think that?
Can you talk? Can you explain something and express how to do something with the spoken word? If you answered yes, then you can create writing to persuade.
It is that simple.
The simple guidance you will find in this book and some unique methods you will consider will have you writing in no time. Writing is within reach of everyone who is willing to apply a little brains and motivation. With Make Your Words Sell you will be able to create persuasive-writing.
Even if you can already write, this book is for you. The reason you need it is the same two reasons I feel speakers need to learn Power Point presentations. Those two reasons are your future children or grandchildren. It is because of a change in how they read.
One of the ways our society has changed is in it's ability to READ. Many college professors I have spoken to point to the change starting with the generation that was born in the year 1976.
Do you know what the change in reading style is?
With computers in 75% of households, more and more people are clicking into the information age.
And that is what the difference is. Writing computer copy is different than writing a book. The need for persuasive writing and by extension, persuasive speaking is essential to reach the reading and listening audience.
The way you write for the computer...
is designed for scan reading
is similar to the best way to deliver speech or to teach
is easily adapted for writing a persuasive essay if you're in school
If you look at any progressive web page you will notice one sentence paragraphs are acceptable. None are longer than three sentences.
This is because reading is done by scanning now days. There you have it. The way future generations will read will be different than those of past generations.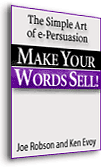 So if you are a new writer, an experienced writer or a public speaker, this book will bring you up to speed on how to create writings that persuade. If you want to sell More? If you want to become an e-persuader…then this book will help you Make Your Words Sell.
Warmest Regards
Nurse Jon
PS. Please check out the info on the book. With no obligation it will show you the standard by which to check out any other book on the subject of persuasive writing.
Persuasive Speech Home and more about the persuasive speech process.
From Persuasive Writing to Persuasive Speech Page
Speechmastery.com: The Public Speaking Persuasive Writing Website
Lets Connect