Self Management
How Do You Manage Your Professional Public Speaking Business?
Becoming a professional speaker requires organization and self management. It is a business and needs to be set up and organization as a business. To do that, you need to make a business plan.
A business plan will help you to identify what the costs of the business set up, doing business and the potential for profit. Especially if you're doing it on a shoestring you need to have a business plan.
In addition to self management will be self improvement. Learning management skills, business communication, accounting, and sales will be part of you job.
Remember, if you want to be a professional speaker, you have to be professional. Self management is an important aspect of this.
Other Necessary Things There are every day concerns that often get overlooked in creating a business. To consider the reality of what you want, consider them first.
Tools of the Trade
Things to consider. Some you may already have. Some of these you may need in the future.
Office (even if it is a corner of your bedroom)
To furnish the office one word of warning. If you drive around any day the trash is put out on the street and you will see a number of cheap office chairs. They are there because they broke. If you buy anything of quality, the office furniture you will be sitting in needs to be of good quality.
Desk
Filing Cabinet (filing system)
Telephone
Dedicated Fax
Answering Machine
Label Maker
You might be asking why? You might think hand written invitations are more quaint. Well they are if they are legible. However, in the business world a professional face is expected, no demanded. To look like a business that produces 8K to 10K per month, there is a need to have a professional face.
Head set for hands free communication.
Cell Phone and head set. Get program for national calls to control long distance calling expenses.
Copier
Computer with XP Pro and MS Office or Mac OSX
Printer: Laser Printer is the best
Computer Programs…
Skype to make cross country or international calls for free. Both parties will need high speed internet to use this service. Having spoken a few time in Central and South America, this is perhaps one of the most wonderful things the web has given us. There is a feeling of freedom when I am talking business in Costa Rica for 30 and 45 minutes and knowing it doesn't cost a dime and the calls are crystal clear.

Graphic Program

Database Program
Your Own Web Site?
A web site is great for internet marketing. You can sell both your self and your products. For about $2000 to $5000 you can have a fantastic site. What better way to create presence as a professional speaker than this.

Or if your like me, either starting on a shoestring or just like to be frugal, you can do it like I did for much less. Please don't make the mistake I made by buying an upgraded free site. In the end it cost me more to pay for help.

What if I told you I never built a site before. (the free one, I had to pay to get things done). What if I told you it is already making me money and that before even the first ad went up (And not pocket change, enough to pay a bill or two). What if I told you that you can do it too.

If you are thinking I don't know HTML-O-P-Q-R-S-T-U-V-W-X-Y-Z about web Site building. I didn't either. Believe me, you can do it.

Imagine not just self management of your business, but also of your own web site.

The Fun Part

What if I told you it cost the same amount I pay for my upgraded free server site except it has over $1500 worth of extras (Just the value of the ones I am actually using right now). The extras that are not even available on the other site.

What if I told you that 63% of the sites built by this host are in the top 3% of all sites and a good portion of those are in the top 1% of all web sites. What if I told you that you can do it too.

If I were you, I would not believe me. I would want to see documented independent proof of what I am saying.

A basis for being a persuasive professional speaker is offering proof. Well, you need to see this for your self.

Before you go any farther I want you to know I looked at 50 sites by this company and even visited ten sites. I didn't stop there, I even called or e-mailed the ten. I have made some lifetime network friends with a few of these already. You can do this too.

Now, go prove it for your self. Go to ...(wait, one more thing)

If you want to skip the advertisement, go to the bottom and click on the try it button. No obligation, just to see everything you get.

There you will see the price tag and how much you get for that price. I would tell you but you deserve to get the sticker shock that I got. Yeh, I couldn't believe the price. If you can't either, you can also call some of the owners or even the Canadian BBB of whom the company is a member of. This is for real. If you know prices, this is unbelievably good.

One last thing. Before you click on the buy me sign, please e-mail me as I can tell you how you can get your site at a reduced price or even free. I know, I did. It is available to everyone but it is not advertised to everyone. So e-mail me first and I will tell you how.

Additionally, There are some free bonus gifts to help you. I need to know your purchasing to send them to you.

A web site is not necessary to become a professional speaker but it will surely help. If your willing to put in the brains and motivation the web site can do more than you could imagine. If you are willing to put the passion into self management, you can be making income from the web.

You can do it too. Build a web presence and a web site that is affordable, will get traffic, and will get the click. Please see for your self. Go to you can do it too.

At the very least, it will educate you and save you the money, time and education I received creating my first site that can not deliver for me.

Reasons to have Web Presence as part of your self management.

Direct Benefits

It provides a means for your audience to check you out
Allows you to market to a wider audience
Creates A World Presence (Imagine getting called by reporters from all over the world for quotes or information)
Creates a funnel for direct Income from your primary income source
Secondary income from Google Ad-sense
Secondary income from any of several monetization models
Saves money, it is less expensive than mailing campaigns
This list can go on and on...

Indirect Benefits

Build rapport in future customers not ready to use you today
Exposure that promotes you via referrals and contacts
Increases your knowledge base
To increase your web knowledge check out this free e-book. It is a must read for anyone desirous of improving their self management skills.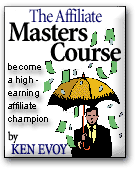 Click here and send a blank e-mail to receive The Affiliate Masters course... It's an intensive 5-Day e-mail course on how to build an income producing affiliate program.
Part of self management and building your presence on the web and as a speaker is products and services you offer. This is not only the primer on the subject, it is your guide book. This is a primary part of your self management relating to the web.
It is not just theory. It is written by someone with experience.
The knowledge you can gain is not free. It will cost you time to look it over. It's value to you could be priceless.
E-mail address
Do not use the services that offer free e-mail even if you pay for full service. They unfortunately have cheap all over them. Your self management can be frugal but it need not be cheap.
PDA
Library
Clothes
Commercial checking account.
Mail box.
Some prefer not to have a business out of their home. If so, you will need an office to work from. Some choose to have remote mailboxes for this reason.
Business permit
In some areas you can save the registration fee if your DBA (Doing Business As) is your name followed by Company.
Business Insurance…
Business Card to design check out the 'Power of 3 and the Upside Down e'
Ability to accept Credit Cards at mobile locations
Stationary
Word of caution…ink jet inks may smear if wet. It can look unprofessional.
Skills to develop
Creating and following through on an action plan is a skill to learn. Developing highly successful habits are an important part of any business plan and self management.
Speechmastery.com: The Public Speaking Self Management Website
Lets Connect